Recipe: Delicious Easy Oven Baked Potato Wedges
Easy Oven Baked Potato Wedges. In the hierarchy of all the ways to cook a potato, oven-baked wedges are at the very top. They're the best of both worlds: their crispy, salty exteriors are reminiscent of french fries, but their irresistibly creamy, soft and tender centers might just remind you of a baked potato. Dice, cube or chop the peeled potatoes into whatever shape you feel like making them.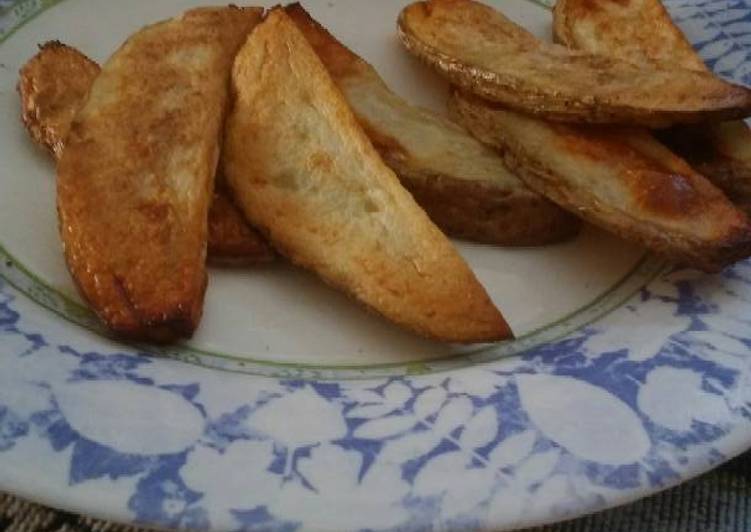 It's mashed potatoey goodness inside, with a crispy outside. We love these potatoes, they are simple to make and taste great!. Line a baking sheet with parchment paper and lightly spray or brush with cooking oil. You can cook Easy Oven Baked Potato Wedges using 4 ingredients and 8 steps. Here is how you achieve it.
Ingredients of Easy Oven Baked Potato Wedges
You need 2 or more of large russet potatoes.
Prepare of Vegetable oil.
Prepare of Salt and pepper (optional).
Prepare of Garlic powder (optional).
Combine the next six ingredients in a large plastic bag; set aside. Add the remaining ingredients; toss to coat. Potato wedges are really simple to make - and faster than fries too because the potato is cut into larger pieces!! Cutting potato wedges is far easier than cutting fries!
Easy Oven Baked Potato Wedges step by step
Preheat oven to 400° F..
Scrub and wash potatoes..
Cut potatoes in half and then into thick slices, about a half inch..
On a baking sheet pour a bit of vegetable oil to thinly cover the bottom of the baking sheet..
Place wedges on baking sheet in single layer..
Place in oven for about 15-20 minutes or until bottom of wedges are golden brown..
Turn wedges over and continue baking for about 10 minutes..
Add salt, pepper, garlic powder to taste and enjoy!.
Mix black pepper, oregano, garlic powder, and seasoned salt together in another bowl or a large zip-top bag. Add potato wedges and mix around until evenly coated. Spread wedges on the prepared baking sheet. Finally, cut the pieces in half lengthwise a final time. Add the oil, garlic powder, garlic salt and pepper in a large Ziploc bag.